Last Updated on December 2, 2021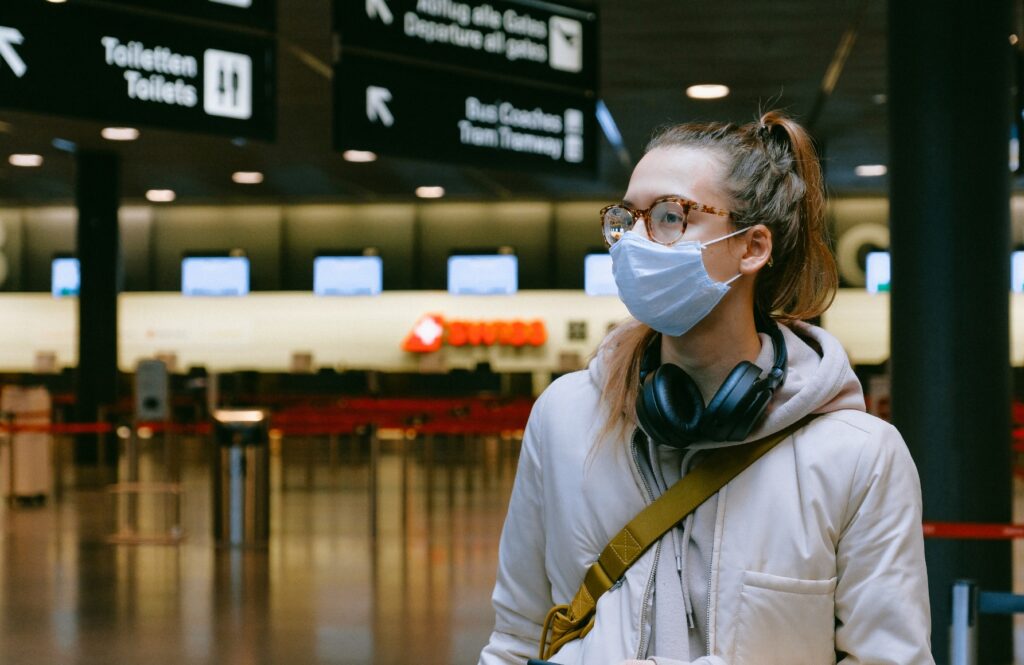 As we approach 2022, most of us are craving a vacation. Whether that is to relax or to inject some adventure into our lives following almost two years of limited freedoms. We are yearning for a break from the troubles this year has thrown our way. That may be a blissful week in the sunshine, a visit to see relatives, or even a work trip.
However, navigating international travel during the pandemic is not an easy task.
The United States is considered a high-risk country by many others, presenting difficulties when attempting overseas travel. It is important to consider that country rules and regulations are changing rapidly, some even updating their regulations daily. The majority of Europe is out of bounds, with most refusing to accept American tourists.
The current reality is that although the risk of contracting Covid-19 on flights is very low, the whole process of international travel can be dangerous. The increased chance of crowding, reduced social distancing, new Covid variants and a multitude of communal surfaces make airports the perfect place for the virus to transmit incredibly fast.
You will struggle to find an industry that has been impacted greater than the travel and tourism sector. It is estimated that globally, 50 million jobs in the industry could be at risk. Entire countries and cities have been forced to close, many of which rely hugely on both domestic and international travel to survive.
Huge annual events such as Munich's Octoberfest, Carnival celebrations in the Caribbean, and Coachella were forced to cancel, as well as the Tokyo Summer Olympics. With such a huge global impact, it is no surprise that millions are now eager to resume international travel. Many are beginning to believe the end of the pandemic is in sight, however with the new Omnicron variant, much remains uncertain.
How is the Airport Experience Right Now?
In the Spring of 2020, all but essential air travel came to standstill. The sector saw a record low in customers throughout the start of the pandemic when the virus was far less understood. However, as we gain a greater understanding of how Coronavirus transmits, we are hopeful that the sector is beginning to make a comeback.
Although the number of flights is still down from this time last year, the international travel industry is slowly coming back to life. Many are still daunted however by the prospect of being back in an airport or aboard an aircraft, which is undoubtedly slowing the revival of the industry.
If you are conscious of ensuring safe international travel, there are clear steps that can be taken.
Wherever possible, take direct flights. Layovers dramatically increase the amount of time spent in busy airports. This directly increases the number of people you will come in contact with, and the number of surfaces you will touch. Although normally slightly more expensive, a direct flight will undoubtedly be the safer option.
Expect social distancing markers and one way systems to be in place in airports. New procedures may be overwhelming for some passengers and so it is vital to respect others during the process and anticipate the airport experience taking longer than usual.
Wherever possible, travel only with a carry-on bag. Some of the biggest crowds in any airport are around the luggage carousel. Traveling with only a hand luggage bag leads to a much faster and more efficient airport experience, reducing the chances of Covid-19 transmission in the airport.
Investigate your airline provider before purchasing a ticket as there is a spectrum of different rules and policies in place across the sector. On all airlines, masks are mandatory other than in the case of people with a medical exemption.
However, extra precautions vary hugely. Some airlines are choosing to block off the middle seat, allowing for stronger social distancing measures. Some airlines have even removed refreshments. Taking away the option to eat or drink on the flight limits when masks will need to be removed, leading to a safer international travel experience.
What Safety Measures Should I Take When Travelling?
First and foremost, adequate personal protective equipment should always be worn. Not only is this safe and polite for fellow passengers, but it is also mandatory on most airlines. Disposable gloves and face shields are an optional extra measure that may help give you peace of mind.
However, the most important preventative measure you can take is excellent personal hygiene. Regularly washing your hands with warm water and soap for thirty seconds will help stop the spread of the virus. Where this is not possible, such as on a long haul flight, regularly sanitize your hands.
As recently as a few years ago, it would have seemed dramatically over the top to carry antibacterial wipes and clean down your seat before getting comfortable on a flight. This year has however shown this to be the norm. Although each aircraft should be thoroughly cleaned between journeys, we now know that we cannot be too careful when it comes to hygiene. Pay particular attention to the armrests, drinks trays, and inflight entertainment systems. Remember to wrap the wipe and dispose of it safely, to help prevent the transmission of the virus.
Health experts believe that the majority of Covid-19 transmissions happen before boarding and after disembarking the aircraft. This is due to crowding occurring at the points where it is most difficult to social distance. Highlighting the importance of wearing PPE and following the recommended guidance throughout the whole airport experience, and not just literally on the flight.
When traveling, particularly internationally, during this pandemic, we all need to be mindful. Mindful and patient that processes may take longer than they would normally, and conscience of the others around us. Ensure you are socially distancing wherever possible and always wear a protective mask covering the mouth and nose.
PRO TIP: Sterilize your passport! think about how many people touch your passport from the time you enter the airport to the time you get on a plane and then off the plane and through the airport once again.
Getting Tested For COVID-19 Before a Trip
As countries begin to open their borders again, many are demanding to see a negative Covid-19 test to gain entry.
There are a variety of places offering coronavirus testing across America, including urgent care centers, pop-up sites, hospitals, pharmacies, and even select airports. For most venues, you will need to book an appointment to access a coronavirus test. However, if you struggle to get an appropriate appointment, you will be able to have a test posted home and return the test via the post also.
The timing of the test is essential, and you must find the sweet spot for the best time to take your test. Many countries require the test to be taken no earlier than 4 days before your trip, and taking the test too early may mean that the country you are visiting will not accept the result. Risking the test and leaving it too late may mean that your results are not returned in time.
Always remember, that a negative test does not mean you do not have to follow the rules or regulations. The rate at which this virus travels is rapid and therefore can be picked up and transmitted extremely quickly. Even though you have tested negative it is still imperative that you socially distance where possible, wear a mask, and sanitize regularly.
A great way to help prevent the spread is to also take a Covid-19 test after your trip upon your return home. Especially if you are planning to head back into a busy work environment. This is a good preventative measure to slow the spread of the virus internationally. You should always check the country-specific regulations of the place you are visiting, as the United States requires mandatory 14-day quarantine after visiting many destinations.
Remember, your health or travel insurance may be void if you travel without following all of the necessary precautions.
So, Where Can I Currently Travel?
It should be noted that rules and regulations on international travel are in a constant state of change. Countries are updating their guidance daily and close attention should be paid if you are planning international travel shortly.
Even domestically, huge tourist attractions and national parks such as the Grand Canyon and Yellowstone are just beginning to reopen. Places such as Disney World are also now reopened, albeit with many changes in place.
All countries that are considered 'high risk' should be avoided unless necessary. The 'risk' level of a country is developed by combining the prevalence of Covid-19 at the moment, combined with the public health infrastructure that is in place at the destination. As we end 2021, a new variant has emerged called Omnicron, information about it is currently being researched and may change things again as we come to the beginning of 2022.