Last Updated on November 29, 2020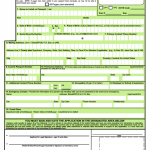 If you are adding pages to your passport you will need to complete a DS-4085 form. You can print this form from online as well as obtaining it from an acceptance facility. This form is very simple to fill out you just need to make sure you use black ink and write legibly. You can also complete this form online and print out the completed form. No matter what way you decide to fill it out be sure to complete all the information being asked. Failing to provide all the requested information can cause substantial delays or even suspension. When you have completed it you will need to sign and date it at the bottom or it will not be accepted. Along with the DS-4085 you will need to send:
• Valid US passport
• Applicable fees
Since Jan. 1st, 2016 the US Department of State is no longer accepting DS-4085. You will now need to renew you passport in lieu of this service if you run out of blank visa pages. * You can request a non standard 52-page when renewing your passport.