Last Updated on December 22, 2020
Production of the U.S. Passport Card began on July 14, 2008. As of March 2010, more than 2,700,000 Passport Cards have been issued to U.S. citizens.
A US passport Card is used as a federal ID and is only good for travel to Canada, Mexico, the Caribbean, and Bermuda at land border crossings or sea ports-of-entry and is more convenient and less expensive than a passport book. The passport card cannot be used for international travel by air.
All U.S. citizens may apply for a passport card.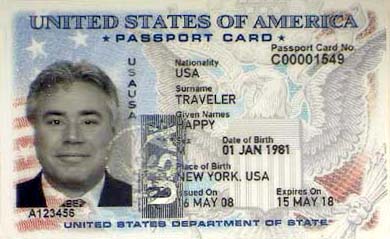 If you have a U.S. passport book and are eligible to use Form DS-82, you may apply for the card by mail. You must renew your passport book at the same time that your apply for your passport card so your passport book and card have the same number. If you have never had a U.S. passport book, you must apply in person using Form DS-11 as a New applicant.
All passport cards will be returned using First Class Mail. Passport cards cannot be shipped to you using overnight delivery.
The Passport card also has some great security features. It uses state-of-the-art security features to prevent against the possibility of counterfeiting and forgery. A protective RFID-blocking sleeve is provided with each passport card to protect against unauthorized reading or tracking of the card when it is not in use. The Chip increases speed, efficiency, and security at U.S. land and sea border crossings, the passport card contains a vicinity-read radio frequency identification (RFID) chip. There is no personal information written to the RFID chip. This chip points to a stored record in secure government databases. With RFID technology, Customs and Border Protection inspectors will be able to access photographs and other biographical information stored in secure government databases as the traveler approaches an inspection station.