Last Updated on July 12, 2022
There are numerous websites that you may come across that are made to look like websites where you can apply for your passport, they are all in fact selling you a high priced PDF editor that is completely unnecessary and may even get your application suspended if you use it.
Google has been allowing these websites to advertise unabated for some time now, in fact Adwords has become infested with these websites even though a PDF editor is completely unnecessary and of no use for filling out your passport application. The Department of State offers an online application form filler tool that you can fill out, make corrections if necessary and print all at no cost. In fact, it is important not to edit this completed form once you have determined the information is correct and printed it (this is because the form is uniquely barcoded and the data that you input is coded to this barcode, any edit could potentially put your application into a suspension state because the data you submitted will not match your printed application. A barcoded application is not required, but may help speed processing.
So since you can print a blank application and hand fill it, you can optionally use a third-party PDF editor, but I honestly see zero reason anyone would want to use a PDF editor (or anything other than the free version of Adobe Acrobat reader) for their passport application. You will literally be paying for an unnecessary piece of software that you don't actually need.
July 2022 Update
New websites have popped up offering the same old "Document Form Filling Software", same look. Same model.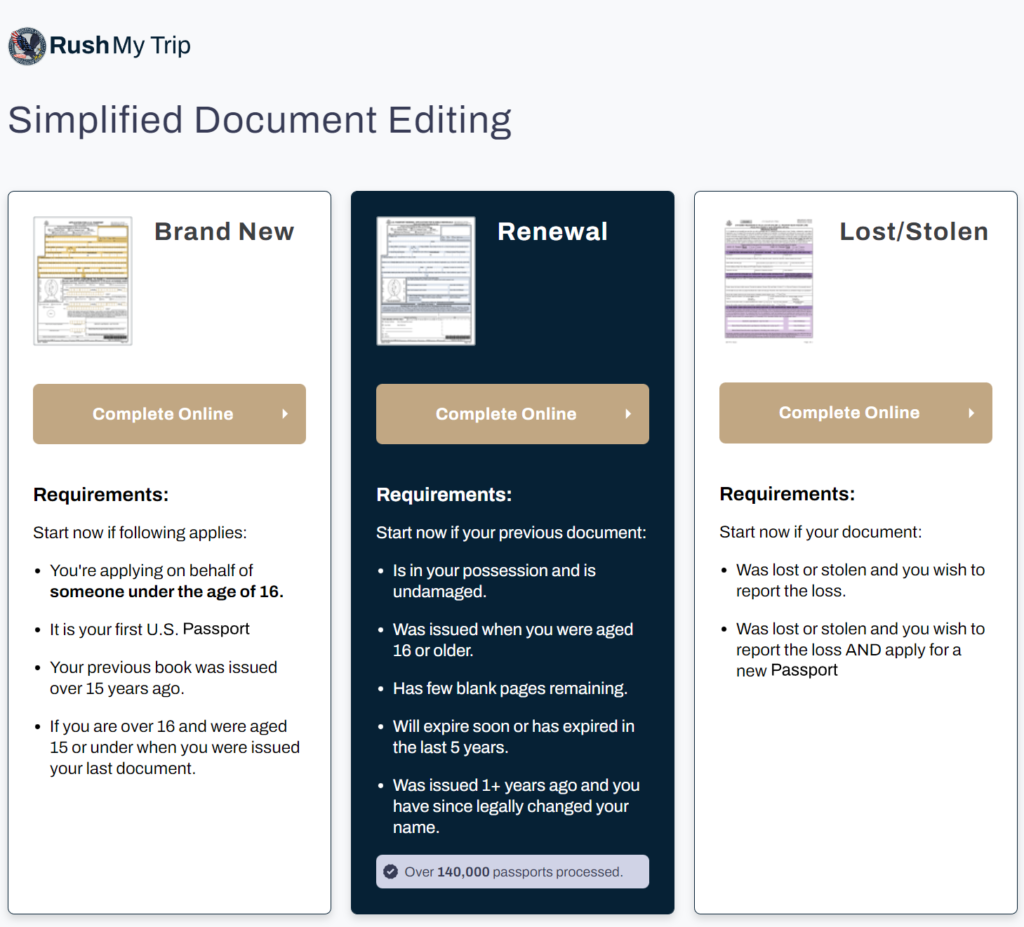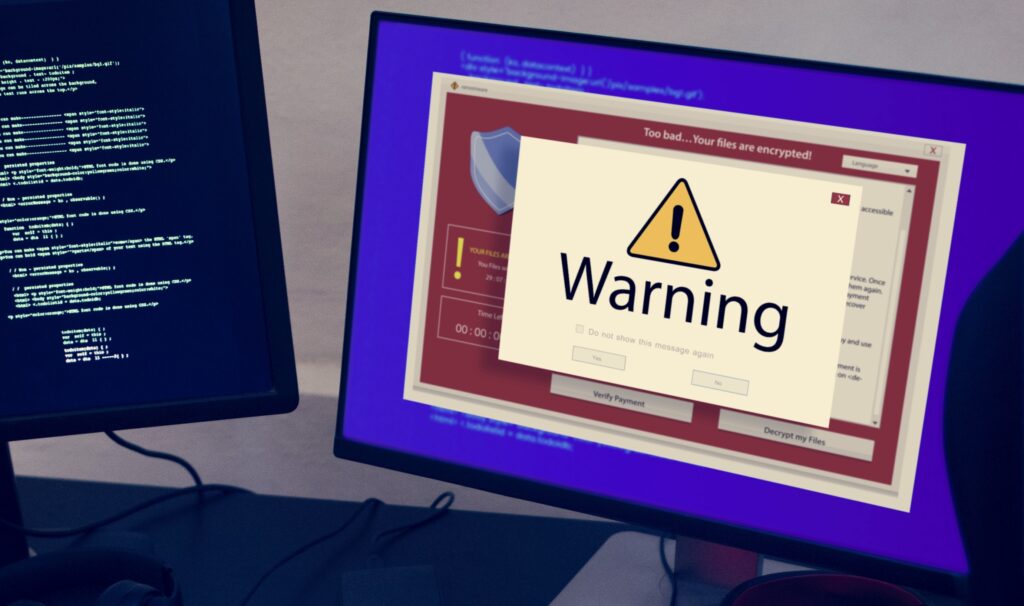 You will spend a considerable amount of time inputting all your information into a "Form Filler" with these websites only to find out at the end of it that you must pay just to print it.
Here are a few screenshots of some of the websites in question (you can see all of these look very similar), there are also other versions I have seen and will get screenshots when I come across them again.
Screenshots of PDF document editors for "Passport Forms"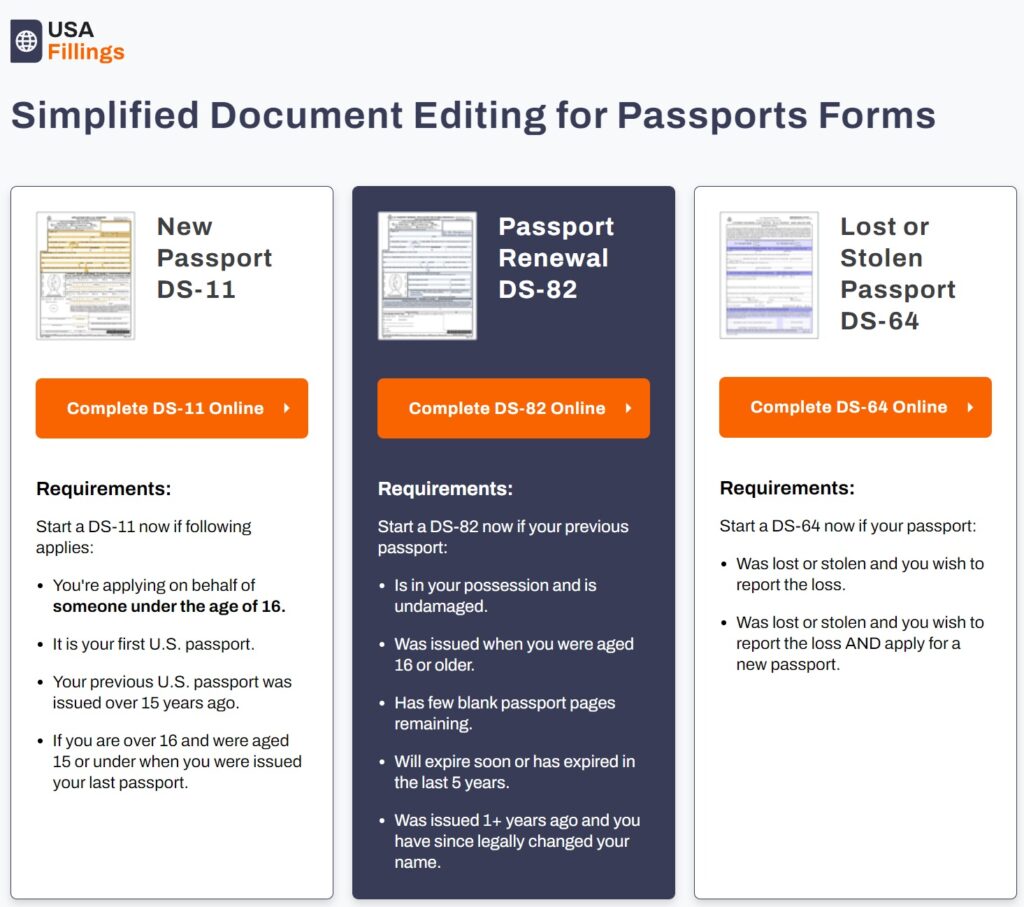 Example Google Ads of PDF Form Fillers
These are examples of some of the advertisements that Google allows these sites to run on their AdWords platform: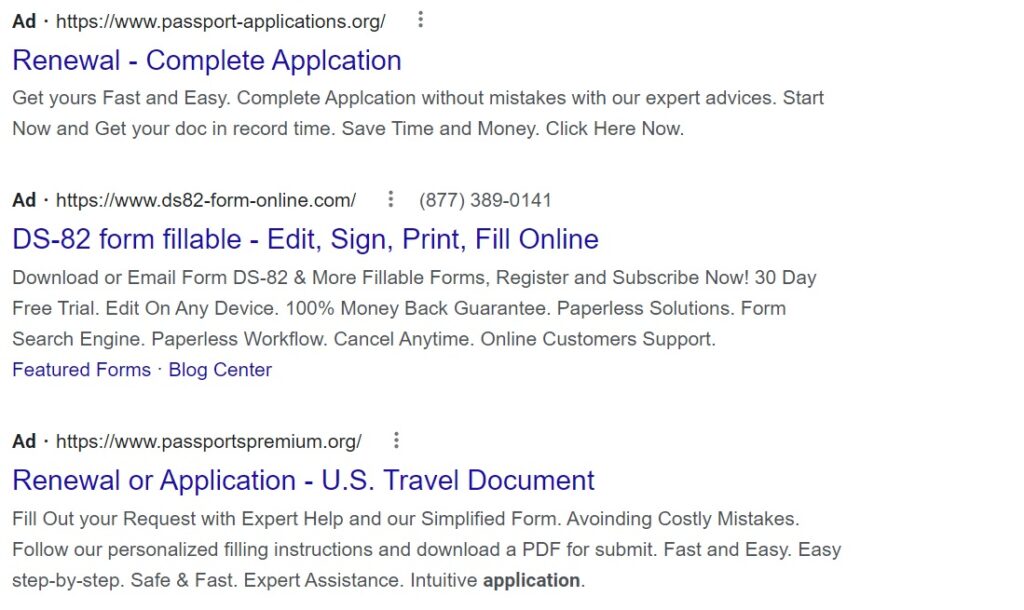 Are these outright scams? No… it's disclosed that they are paying for software but I know plenty of people pay for it that don't know what they are buying. It's also unnecessary!
List of sites I suggest staying away from:
If it's listed here, I have reviewed each of these. They are all PDF form fillers, just use the official Passport Form Filler from the Department of State / Passport Office
usafillings.org – Registered as E-Forms Premium LLC, a Florida Limited Liability Company
signnow.com –
passportspremium.org –
passport-applications.org –
ds82-form-online.com –
ds11-form-online.com –
rushmytrip.org –
These websites are sold as "premade" businesses opportunities on online forums and probably as traditional businesses for sale, I have seen them go for sale upwards of $15,000. The people operating these websites did NOT make the PDF editor, they are simply following promoting a product that they bought the rights to resell. It is highly questionable if your data is safe or even possibly being resold.