New Passport Application Guide
Last Updated on September 1, 2022
If the applicant is 16yrs old or older, born in the United States, and never had a passport (or only had a child passport), the type of passport application they need is a new passport application (or form DS-11). It is also quite common for those who have had a passport to apply for a new passport again. The application process for a passport can be confusing (and time consuming) if you don't have the right information.
Notice: Filling out the wrong forms or filling them incorrectly can cause delays and/or suspension of your application.
New Passport Eligibility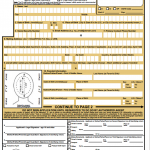 You will need to apply for a New Passport and fill out a DS-11 form if:
This is the first time the applicant has ever had a US Passport
The applicants most recent passport was issued more than 15 years ago
The applicant is under the age of 16
The applicants passport was issued when they were under the age of 16
The applicants passport has been Lost, Stolen or Damaged
The applicants name has changed and there is a lack of paperwork or legal documentation to verify the new name
Getting a New Passport Step-By-Step
These are the basics steps of the new passport application process, depending on the applicants individual circumstances it may be shorter or longer with extra documentation requirements (e.g. If the applicant wasn't born in the US, they will most likely need to provide additional proof of citizenship documents).
Fill out passport application

The best way to do this is at the Department of State website. It should take 30-45 minutes.

Gather Documents

Birth certificate, copies of drivers license, passport photos (if you want to get your passport photos before you get your application sealed or your chosen passport office doesn't take passport photos onsite).

Prepare check or money order

See passport fees for all costs, the acceptance agent fee will be paid separately.

Visit Acceptance Agent

Once all the documents are gathered and the application is printed, it's time to for the applicant to visit an acceptance agent at a local passport office. Some acceptance agent locations will require an appointment.

Wait 8-11 Weeks or 5-7 Weeks if Expedited

Because of Covid-19, the only way to get it faster is to visit a Regional Passport Agency with proof of travel within 72 hours.
New Passport Application
The first step is going to be to fill out the DS-11 application. You can acquire this form at the post office, or even in PDF format on this website, the best way to fill it out is online at the Department of State passport forms website. When filled out online, it creates a unique barcode with all the data you filled in and allows less errors and reduces the chance of an application suspension. If it is filled it out by hand: make sure it is done in black ink and that the writing is completely legible.
New Passport Documents
Next you will need to get all your documentation together. You will need to bring all the following Documentation with you to a local passport office:
Proof of Citizenship – State issued Birth Certificate or certified copy. Expired undamaged Passport. Certificate of Citizenship or Naturalization papers. All these Documents must be originals and will be returned with your New Passport.
Proof of Identification – Back and front copy of your state issued ID or driver's license. ID must have been issued for 6 months or longer this includes renewals. If your ID has been issued for less than 6 months or you do NOT have an ID you will need Secondary forms of ID.
Government Fee – Money order or check (not starter checks) for the total that is specified on the product service and fee page of your DS-11. Amount varies depending on which products you order as well as what service time you need. The check should be made out to the US Department of State. Do NOT abbreviate this as it will cause delays in your service.
Passport Photo – (1) passport photo. Must be 2″ x 2″ with white background.
DS–11 Application – Completed application printed and unsigned.
Passport Acceptance Agent
Once you have all your documentation together you are ready to head to your local passport office. There will be an acceptance agent there that checks to make sure you have all the proper documents, goes over your DS-11 application and then verifies your identification; after which they will ask you to take an oath. You will then sign your application and all your documents will be sealed in an envelope. From there they will either mail it out or, if you are using a 3rd party expediting company, you will take it with you.
Find a Passport Office Near You
Start by using the map below to locate passport offices in your local state and/or city. We have made the complete database of passport acceptance facilities available for you. There are thousands of acceptance agents located in almost every major city in the United States.
Common New Passport & Documentation Questions
What legal reasons would prevent me from obtaining a passport?
If you are currently on probation, owe more than $2,500 in child support, are wanted for arrest and have been summoned to appear in court on charges, or are currently in prison. Owing more than $53,000 in tax debt.
Can passport forms be copied or faxed?
When either filling out the forms by hand or when filled out on the Department of State website, they must be original signature pages. If filling out by hand, only submit originals.
Do I need a US Passport?
American citizens require passports to exit and enter the US and all other countries in the world. It is required that you carry the correct identification while traveling abroad. You will need a passport to travel every time you leave the United States or its territories. There is one exception to this rule for American citizens, traveling by land or sea to Canada, Mexico, the Caribbean, and Bermuda – a passport card can be used, it is also possible to only apply for a passport card and not a passport book.
How long is my passport valid for?
A passport's validity is generally determined by the applicant's age. In the US, passports issued for adults ages 16 and older are valid for 10 years. Children 15 years of age and under receive passports valid for 5 years. There are two primary exceptions to this rule: a second passport is valid for 2 years and an emergency passport is valid for 1 year. In some instances, when replacing a lost passport, for example, the Department of State may issue a passport with lesser validity (usually 1 or 2 years).
What is a passport acceptance facility?
A Passport Acceptance Facility is a place where you can apply for a US Passport and have your signature witnessed. In general, they are located within select local post offices and county clerks.
What actually is a passport?
A passport is a document, normally in the form of a small book that has several functions. A passport enables a person to travel outside of the borders of their home country. Although a passport does not automatically grant the holder the right to enter any country, US and Canadian passport holders can travel to many countries without obtaining any further documentation (such as visas) prior to taking the trip. A passport also functions as proof of citizenship, so a person holding a U.S. Passport is internationally recognized as a US citizen. In cases when visas are required, the visa stamps or stickers are placed on the pages of the passport. Border control officials will also stamp the pages of the passport with entry and exit stamps upon entering or exiting a country.
Why do I need to appear in person at a passport acceptance facility?
If you are applying for a new passport or replacing a lost passport, you must appear in person at the nearest Passport Acceptance Facility. This is necessary for the Acceptance Agent to verify your identity. You will be asked to swear an oath that you have been honest in your application, and you will need to sign the application in front of the Acceptance Agent (do not sign the application before you get there!). Once the Acceptance Agent is satisfied and your identity has been confirmed, he or she will seal the appropriate documents into an envelope.
Why would someone need a second passport?
Second passports are often requested by those who travel frequently. If you are unable to wait for a visa to be issued you may request a second passport in order to travel while getting a visa for your next destination at the same time. Another reason to apply for a second passport is for travelers who have Israeli stamps in their current passport but who also need to travel to countries where any evidence of travel to Israel will bar you from entry. When approved, second passports are usually only issued for two years but may be extended.
I was born overseas, how do I get a birth certificate?
If either or both of your parents is/was a U.S. citizen when you were born abroad, either or both of your parent(s) should/should have registered your birth at a U.S. embassy or consulate, and, obtain/received a Consular Report of Birth Abroad, Form FS-240. This form is good enough to be a legal proof of birth and U.S. citizenship.
What if I cannot find my birth certificate?
If you have had a previous passport, you can do a file search and the passport agency will look up your old passport for a fee of $150 and a letter requesting a file search; you can use an old, in good condition passport for proof of citizenship; you can also order a birth certificate on-line or obtain one from the county you were born in.
Where can I get a copy of my birth certificate?
An official Certificate of Birth should be on file in the locality where the event occurred. The Federal Government does not maintain files or indexes of these records. These records are filed permanently in a State's vital statistics office or in a city, county, or other local office. To obtain a certified copy of the Birth Certificate, write or go to the vital statistics office in the State or area where you were born. For expedited services you can use Vitalchek.