Adding Additional Pages to a Passport is Now a Thing of the Past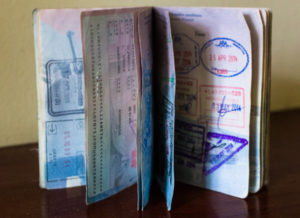 Anyone who travels frequently, especially during the last year or so, is likely to have heard about new changes for the procedure of adding pages to your passport. Previously, travelers would get their passports stamped when entering different countries and ports, these stamps were placed on empty pages in their passport book. Once those pages were filled, frequent travelers from the US simply bought additional pages sewn into their valid passport book. Now, the United States has implemented a policy which makes adding these extra pages to your passport a thing of the past.
So when did this change occur?
Travelers could request an additional 24 pages for their passport until the US Department of State made this change effective on January 1st, 2016. Existing passport holders needing extra pages after this date must apply for a new book even for passports that are not expiring soon. But there is good news, applicants may choose to receive either a 28 (standard) or 52 (non-standard) page book at no additional cost for the standard new passport fee of $110.
Why was such a change necessary?
This change was needed in order to improve the overall security of the passport both in the United States and within other countries. The decision to eliminate the passport pages' addition service will help make the U.S. Passport more in line with international standards as well as helping to streamline security efforts for US passport holders.
What you need to know about renewing your passport.
Renewals are fairly simple and are still accepted through the mail without having to visit a passport acceptance clerk.
Things you need for a passport renewal:
Complete DS-82 From for Passport Renewal *if you want the 52-page book, make sure you choose that option in your application.
Undamaged Current Passport (can be renewed within 5 years of expiration date)
New Passport Photos-Name Change Documents if needed (e.g. Marriage license, Divorce decree, Court-ordered name change document
Passport Book Fees, it's $110 for the book, $140 for both the book and card and $170 to have the book expedited at the passport office for about 2-3 weeks *keep in mind you cannot a renew a passport issued to persons under the age of 16
Then you'll mail all these items in an envelope large enough to fit the application without folding and preferably with trackable delivery method and ship.
There are not a lot of changes regarding this update to the passport process, and are still good for ten years. Keep in mind a damaged or lost passport is a completely different process and will require you treat it as a new passport application which will require you to see passport acceptance clerk.
Why would frequent travelers want the optional 52-page book instead of a 28-page one?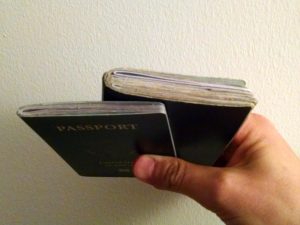 If you anticipate doing a lot of travel and therefore getting a ton of awesome visa stamps or visas affixed to your passport pages, then go ahead and opt for the larger passport. Doing this does not cost anything extra for new applicants or those renewing existing passports. One drawback to taking a slightly larger book abroad with you.
So while there are some changes coming down the road with regards to passport pages these changes are not major however and are rather easy to deal with even for the frequent traveler. Anyone with questions regarding the process should contact their local travel office or get more information online at www.travel.state.gov.