10 Important Digital Steps to Take to Improve Your Personal and Property Security When Traveling in 2021 and beyond
|
Last Updated on July 12, 2021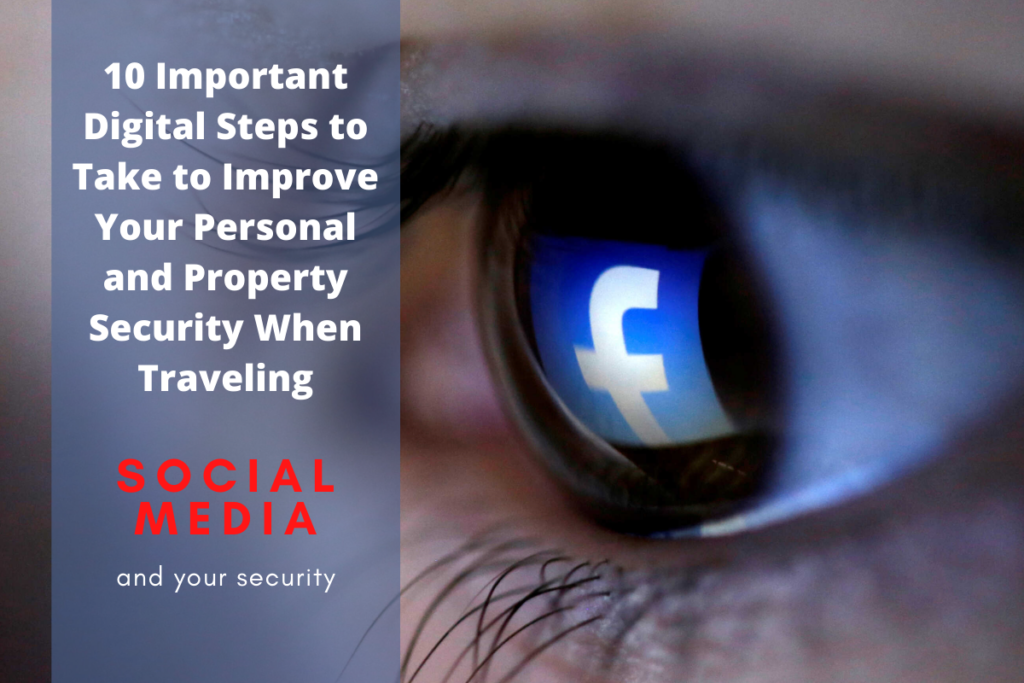 With over 3 billion Facebook accounts and over 1 billion Instagram users, we have never been more connected in the online world. Whilst the majority of social media sharing is harmless fun, it is important to know the dangers of oversharing online, especially when traveling.
What can seem like an innocent photo upload or a meaningless quick tweet can quickly develop into actionable intelligence for criminals.
Announcing Your Travel Plans is Giving Criminals an Invitation
We are all guilty of oversharing on social media. With no trip to the airport feeling complete without the obligatory Instagram post.
We regularly share intimate details about our vacation without even giving it a second thought. Countdown apps communicated with the masses on Facebook, and Instagram stories of boarding passes are posted without concern.
However, the reality of what we are sharing every single day is unbelievable. We are openly giving criminals a wealth of information about when our homes are going to be empty. It is relatively easy for criminals to piece together seemingly small amounts of information to get a well-rounded calendar of when we are going to be leaving our homes empty.
Some insurance companies are even rejecting claims for people who have been burgled but posted online about their trip. This highlights the magnitude of the repercussions of oversharing on social media.
Amend Your Tagging Settings
Some simple adjustments to the settings on your social media accounts can make a huge difference to your safety whilst on vacation. As the norm, when someone tags you in an update or a photo, it will instantly appear on your Facebook page. A few simple clicks can prevent this from happening, avoiding any unwanted information being instantly shared.
This is a quick tip that can vastly limit what you share with your online friends. It means you get the opportunity to vet any potential posts or photographs before they appear on your feed and are shared with the masses. Allowing you to carefully curate the posts that you want your audience to see.
Wait to Post Your Photos
If we are speaking honestly, we all love to show off a little when we're on vacation. But daily Facebook and Instagram posts could be putting yourself in danger. Not only are you showing the world exactly where you are but that your home is currently empty.
However, this does not mean that you cannot share those all-important holiday snaps with the world. Save them until you are home and then share them, showing everyone what an amazing time you had. This not only enables you and your home to stay safe, but it allows you to enjoy reminiscing on the trip after you return home.
You Do Not Have to Completely Switch Off
Social media can be a great tool when used effectively. Some of the best, most honest reviews are on there. Instagram is a great method of finding new places to eat and drink, as well as attractions to explore.
This is relevant to both domestic and international travel, giving you a true insight into the best places to visit on your trip. It can be a great way to stay in contact with friends and family and share photos privately. So, travel does not mean you have to completely abandon your social media, just use it wisely.
Make Meetups Private
We see it all too often. People commenting on each other's Instagram posts or having a public conversation via Facebook. This is allowing not only your friends and family to read but millions of people around the world.
By piecing together small parts of your social media accounts, criminals can quickly work out when and where you are going to be. This can lead to a danger to your personal safety, with strangers knowing your exact whereabouts. It can also lead to danger to your property, as it is now clear that your home is going to be empty.
Be mindful of things you post publicly, utilizing the private chat functions that every social media platform offers.
Use a VPN for Public Wi-Fi
VPN stands for 'virtual private network' and is a form of technology that can be used to protect your personal privacy as well as security whilst you are online. Public Wi-Fi, especially those without passwords, is notoriously insecure and therefore a VPN is essential for keeping yourself safe whilst traveling.
Documents such as your email login, bank details, and home address could be easily accessed by hackers on public Wi-Fi, without you even realizing. Without using a VPN, you may be giving criminals an easy ticket to accessing your personal information.
Another way to protect yourself from unsecured Wi-Fi connections is to disable automatic connections. Although this is not a foolproof method, it allows you to access the public Wi-Fi before connecting your mobile device.
Prohibited Photography
Particularly important with regards to international travel, it is vitally important to respect other cultures, traditions, and rules. Often, it can be difficult to understand the customs in a country or area and photography will play a huge role in this.
There are many places across the globe, particularly religious places, where photography is not permitted. If you ignore these rules and post photos on social media, it can be seen as highly disrespectful.
Avoid Geo-tagging Photos
Along with our daily routines of scrolling and liking, geo-tagging has also become the norm for us all. Geo-tagging gives your friends and followers the exact location you have uploaded the photograph from. If you are uploading instantly, the safety concerns around this are obvious.
Especially if you are a solo traveler, you are giving criminals your exact location. If you have previously posted on social media that you are traveling alone, the obvious safety implications of this are huge. Additionally, you are yet again showing the world that your home is currently empty.
Additionally, adding location tags to photographs can lead directly to over-tourism. This can create problems when traveling to remote places or more private locations, which swarms of tourists heading to would cause some reduced comfortability for residents, or cause damage to the natural scenery there.
An example of this can be seen as Bogle Seeds Farm in Ontario, Canada, which was forced to close temporarily, soon after opening in 2018 as over 7000 tourists arrived in a single day. This was greatly attributed to the social media presence around the farm, with tourists finding the attraction through geotagged photographs.
There is going to be no harm in geo-tagging busy and more obvious locations, such as the Eiffel Tower or the Great Wall of China. If you desperately want to geo-tag but do not feel quite sure, consider tagging a wider space such as 'New York' or 'Paris'.
Discuss This with the Whole Family.
We all know that teenagers are the most tech-savvy among us, which is why it is important to have an open and honest family conversation before any trip. The whole family should be handling social media in the same way to ensure optimum safety.
Especially with trips as part of a larger group, it can be important for safety and personal privacy that everyone is using social media in the same way.
Use Scheduling Tools
If you are an avid social media user or use social media for business purposes, you may want to consider using post scheduling tools. If you are someone who posts multiple times a day, going cold turkey on your favorite apps might be a clear signal to your friends and followers that you are away from home.
Even though this will not enable them to know where you are, it may give signals that your home and belongings are vulnerable. Use scheduling apps to regularly upload posts in your absence. This is also a great tactic for keeping up momentum on business accounts, where traction on social media can be converted directly into profits.
Can Social Media be Used as a Safety Tool for Traveling?
This all being said, there is a place for social media and smart technology whilst traveling, especially when faced with an emergency situation.
Facebook has a safety check tool installed. This feature is activated by the company in extreme circumstances such as natural disasters or terror-related emergencies. It allows anyone on Facebook in the local area to mark themselves as 'safe'. A clever feature and uniquely positive way to use social media for good.
Apple also has the 'find my friends app' allowing you to gain the location of family and friends quickly and easily. This can be a great feature if traveling internationally as part of a larger group where you are likely to split up for periods.
The Bottom Line
It is no revelation that we are all hooked on our phones and particularly on social media. The impulse to share is greater than ever before, yet so are the implications. Although we are not suggesting completely ditching the apps, giving a greater amount of consideration to what is posted on there, especially whilst traveling, is imperative.