Last Updated on November 15, 2021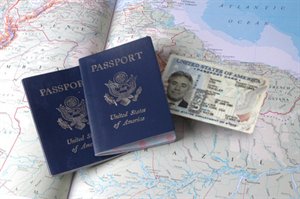 First issued during the late 1700s, passports issued by the United States have become some of the most respected and coveted travel documents. Standardized in the World War II area, US passports constantly undergo changes in design and security to maintain their integrity.
US Passport Procedure and Usage
Regular passport books are valid for ten years, and can be applied for a numerous passport acceptance agent locations upon presentation of the required documents and payment of a fee. They are good for international air, sea, and ground travel worldwide. While many countries allow US visitors to enter and stay in country for various amounts of time on the strength of the passport alone, some countries require addenda of country specific visas, which are obtained from that country's embassy or consulate. Countries that have visa requirements have varying requirements for obtaining those visas.
US Passport Fees
The initial fee to obtain a new Passport is $135; a renewal is $110. Expedited processing is available in return for payment of additional fees. (See all passport fees for more information)
Only one valid passport can be held by individual citizens of the United States, unless authorized otherwise of the US Department of State.
The US Passport Card
In July of 2008, due to requests from residents along US borders for a more portable and easier application process than a regular passport, the United States Department of State began issuing "Passport Cards", a wallet sized identity card usable for international travel by land and sea, valid only for travel to Canada, Mexico, the Caribbean and Bermuda. The Passport card can be used by US citizens and resident non-citizens and is considerably less expensive to obtain than a regular passport, although application documentation required is similar for both documents.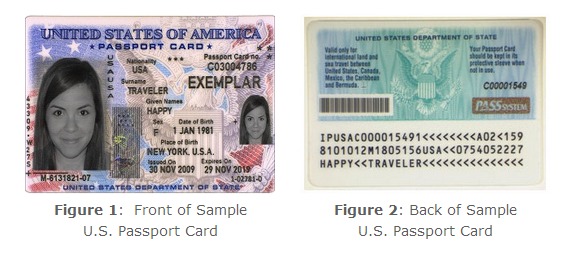 The Passport Card contains an RFID (radio frequency identification) chip which is able to be scanned electronically to speed up border crossings at certain points of entry.
Additional Usage of the US Passport Card
Under the REAL ID Act of 2005, a law passed to combat terrorism, the Passport cards are also accepted as bona fide, Federally-approved identification for domestic air travel and entrance to Federal properties that require such identification for access. The card is also acceptable as proof of compliance with citizenship requirements for certain types of employment.
US Passport Card Fees
The initial fee for the Passport Card is $55, and renewals are $30. Citizens may possess both the full-format Passport and Passport Card simultaneously, and fees to obtain a Passport Card for existing Passport holders are $30.
Travel Requirements
With the growing threat of global terrorism, all traveling US citizens are required to possess more specific documentation than in the past. As previously indicated, full Passports are required for international air travel of any type, and the Passport Cards are good only for re-entry from the countries listed below when arriving by land or sea.
Anguilla
Antigua and Barbuda
Aruba
Bahamas
Bermuda
British Virgin Islands
Canada
Caribbean Netherlands
Cayman Islands
Dominica
Dominican Republic
Grenada
Jamaica
Mexico
Montserrat
Saint Kitts and Nevis
Saint Lucia
Saint Vincent and the Grenadines
Turks and Caicos Islands
US Passport Book vs US Passport Card – Differences Recap
Passport Book

Good for international air travel
Cost for application $135, renewal $110
Globally recognized travel document
Processing time 4 – 6 weeks
Expedited processing of two weeks available for additional fee
Size – 5 inches by 3 inches when closed
Validity – ten years
Passport Card

Good for land or sea entry and reentry for specified countries
Cost of application $55, renewal $30
Recognized only by US and specified countries, not acceptable for overseas air travel
Processing time 4 – 6 weeks
Expedited processing of two weeks available for additional fee
Size – equivalent to driver's license or credit card format
Validity – ten years
Summary
In a time when all countries are more concerned about who is entering or leaving their borders, secure, recognized national travel documents have become a mandatory part of travel plans, for pleasure or business. Your proposed or anticipated travel plans will dictate whether the full US Passport or the US Passport Card is the appropriate documentation for you to apply for and use in your travels.